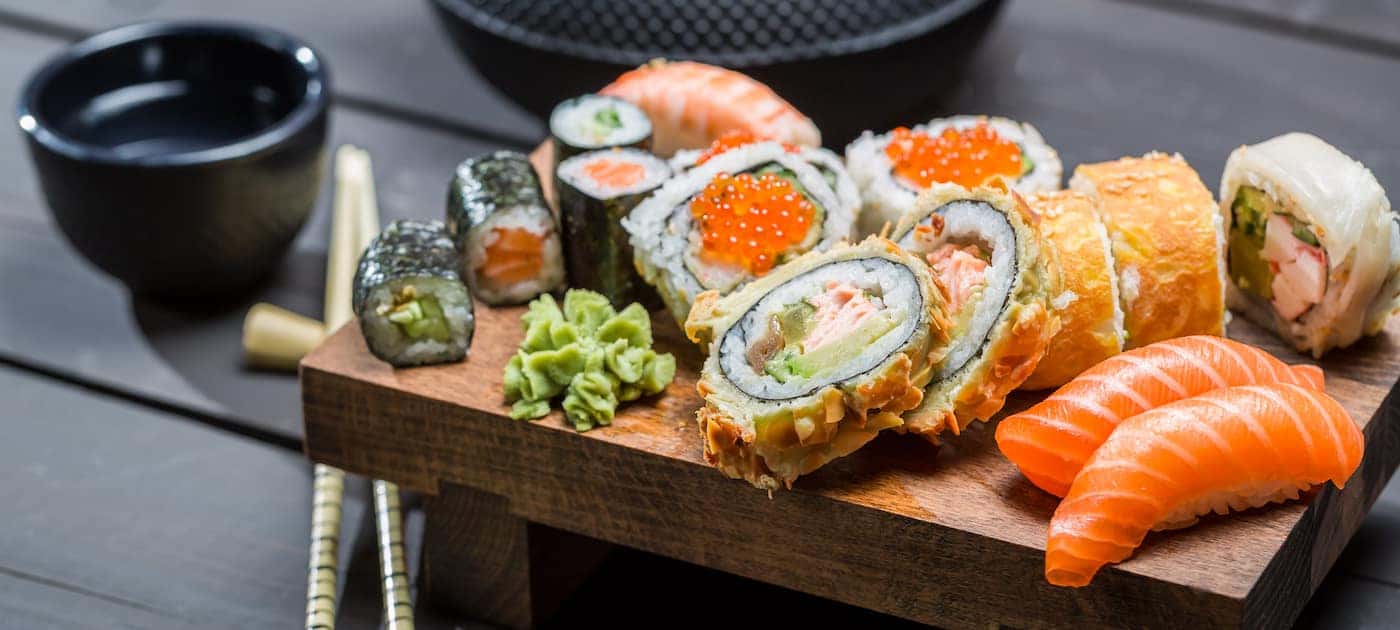 From Tex-Mex to sushi and even Hawaiian, Williston, ND restaurants offer a wide variety of food! And, as you might have guessed, those of us here at Ryan Chrysler Jeep Dodge have to eat once in a while—we're not robots—so we're sort of like foodie amateurs. Find what we believe to be the best Wilston restaurants below.
Doc Holliday's Roadhouse
Doc Holliday's Roadhouse is—as you might have guessed—a country-western restaurant and a great family escape with similarly great food. For steaks, burgers and—for non-driving adults—beers, Doc Holliday's Roadhouse is a superb choice.
Basil Sushi Bar and Asian Bistro
Basil Sushi Bar & Asian Bistro is a popular spot for modern dining in Williston. Whether you're looking for robust Thai food or authentic Vietnamese dishes, Basil offers a surprising range of authentic Asian cuisine. It's hard to recommend just one dish, but a few solid choices include: Teriyaki Chicken Steak, Volcanic Shrimp (which isn't as spicy as it sounds), and Shrimp Pad Thai. They even have a "Sushi for Beginners" section of the menu for those who've never enjoyed the tasty goodness of a Spider Roll (deep-fried soft shell crab).
Hula Fire Grill
A taste of Polynesia in the midwest, Hula Fire Grill serves up tasty Hawaiian BBQ to Williston residents. Charcoal-grilled meat and a comfortable atmosphere make Hula a must-eat Williston restaurant. The restaurant's "Ohana" style menu includes highlights like the Teri-Chicken Burger, BBQ Hula Grill Ribs, and Hula's Pineapple "Riblets"!
Dakota Farms, Williston
The Dakota Farms restaurants are exclusive to North Dakota and have 40 years of experience serving homestyle cooking to hungry midwesterners. The breakfasts are particularly notable, like the Chuck Wagon Breakfast, which is a tenderized steak that, in their words, is "chicken-fried and topped with country-style creamed sausage gravy with two Farm-fresh eggs, golden-fried hash browns, and buttered toast."
3 Amigos Southwest Grill
If you haven't eaten at 3 Amigos Southwest Grill yet, you must be new to the food in Williston, ND. Welcome to the neighborhood! A perfect, Tex-Mex fusion, along with a few other cultural editions, have created a superb menu that just about everyone seems to love. Choose from a menu of super tasty burritos and burrito bowls filled with either egg or rice and meats like chicken-fried steak, bacon, and pulled pork.
Best Williston Food with Ryan Chrysler Jeep Dodge
Now that you know our favorite spots to chow down, tell us yours! You're welcome to reach out online, or you can come by and tell us about your favorite Williston food as you test drive a new Jeep Wrangler or Jeep Grand Cherokee. Be sure to explore our RAM trucks with great gas mileage as well. Also, don't forget to check out our favorite Williston activities—your favorite might be on our list!