While the World Goes Hybrid, Dodge Doubles Down on Classic Big V8 Power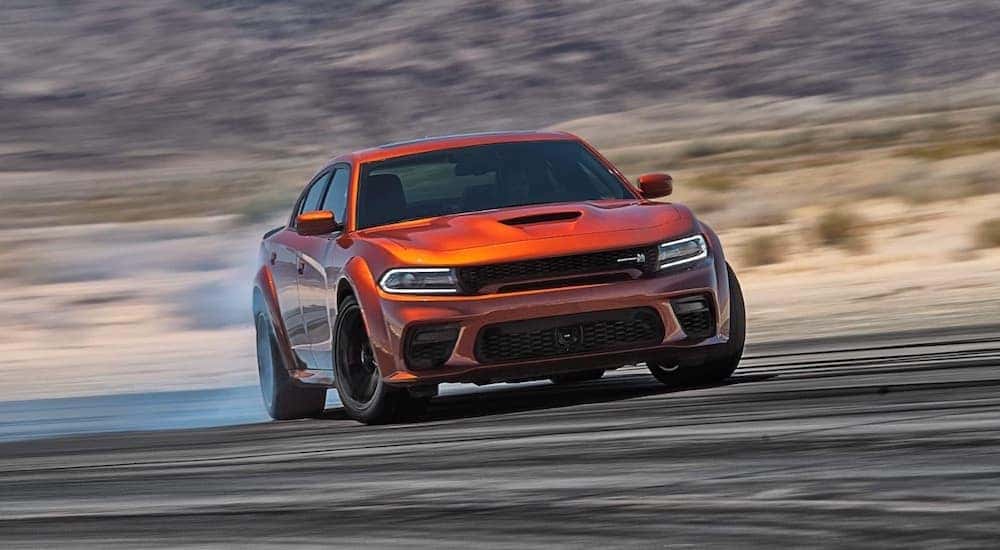 What do the Dodge Charger, Dodge Challenger, and Dodge Durango have in common? All three unapologetically lean into old-school muscle car performance. In an era of hybrids and electric vehicles, Dodge stayed true to its brand values, offering true muscle car styling and powertrains to match. Even the automaker's sole SUV got a horsepower upgrade, offering performance-hungry parents an escape hatch from humdrum SUV driving manners. For those considering a Dodge but might not have the budget for the newest model, buying used is a fantastic option that allows you to get the modern features you want at an affordable price. So, if you're in search of a great used Dodge dealer with a great selection of pre-owned vehicles, look no further than Ryan Chrysler Jeep Dodge.
The Charger made its entrance (again) in 2006 with an all-new rear-drive fastback sedan. Squint, and you'll find a few styling cues borrowed from Charger models of yore but make no mistake: this newest version incorporated next-generation technology and a more powerful, lighter-weight powertrain that matched the Charger's aggressive curb profile. A redesign came in 2011, adding a touch of elegance to the Charger's muscle car angles.
Cut to the Challenger, the poster child for 1970s muscle cars that disappeared almost as quickly as it arrived. Not so on the second go around, Dodge released an all-new Challenger in 2008. The new model looks a lot like that 70s icon and packs a punch under the hood, with up to a whopping 807 hp, depending on the engine option. The three-row Durango, the SUV Car and Driver says is perfect for "Rad Dads," also offers best-in-class power. Which of these iconic Dodge models speaks to you?
The Charger: Muscle Car Meets Practical Commuter
Sliding behind the wheel of your very own Charger might be the best antidote to the Monday morning blues. How can a sedan with a big V8 possibly work for commuters? Say hello to the Pentastar V6, a surprisingly powerful 3.6-liter engine that achieves up to 19 MPG in the city and 30 MPG on the highway that can be found at almost any Dodge dealer near you. Practicality doesn't come at the expense of power; the throaty V6 delivers 292 hp and brisk acceleration.
Dodge also offers the Charger a range of V8 power, from a 5.7-liter HEMI V8 to a beastly supercharged 6.2-liter High-Output version that produces a monstrous 797 hp and 707 lb-ft of torque. Under the hood of the aptly named Hellcat trim, the latter achieves best-in-class torque and earns the badge for the most powerful mass-produced four-door on the planet. Over multiple model years, Dodge plays with engines, trims, and output to offer buyers a variety of configurations.
Newer models include plenty of in-vehicle tech, including a dash-mounted infotainment touchscreen and a digital driver data display. With room for up to five passengers, the Charger can seamlessly transition from a track-shredding beast to an everyday driver. Smartphone connectivity makes it easy to access your iPhone or Android apps and data, and an available Harman Kardon audio system offers unparalleled sound for those who consider themselves audiophiles.
The Charger works for a variety of buyers. Some choose it for its muscle car bones and aggressive styling, while others say yes for the Charger's multi-purpose personality. True racing enthusiasts can't say no to the Charger SRT Hellcat, and track rats with families can relax knowing their muscle car also boasts surprisingly roomy rear-seat accommodations and enough trunk space to haul junior's soccer gear. Date nights are better when your chariot has plush leather seats and a swanky suede-like headliner.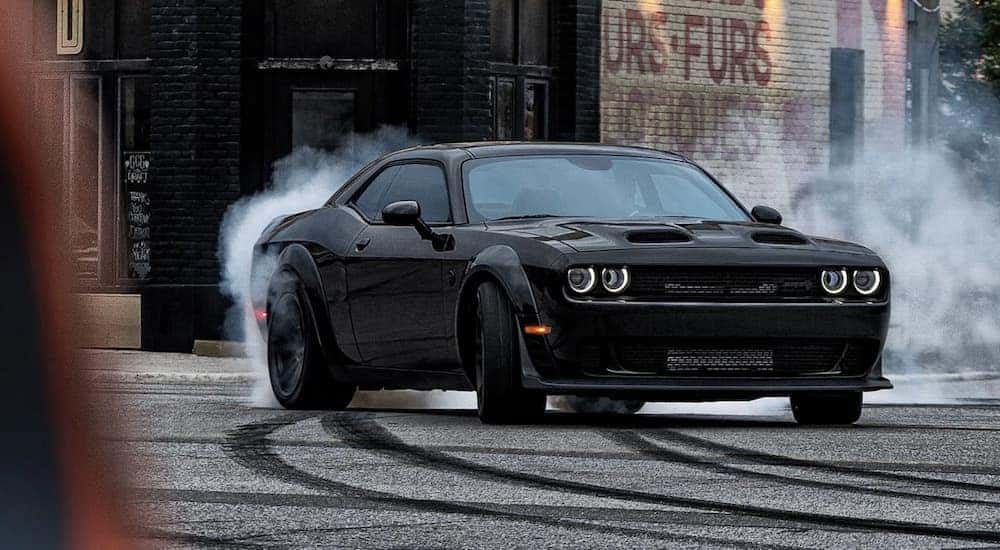 The Challenger: Go All in on Throwback Styling and Big V8 Power
Many Dodge fans want to know the difference between the Charger and the Challenger. In a word, styling. The Challenger reaches back further for design cues, echoing the 1970s-era model in an eerily similar way. Where the Charger hints at old-school muscle car lines, the Challenger goes all-in, sacrificing rear seat room for a slant fastback design. It's shorter than the Charger, which means slightly less trunk space.
The Challenger probably won't work for families or carpoolers because the back seat is tight. What it lacks in passenger space, it more than makes up for with its driver-centric cockpit and ergonomic dash. The base model Challenger offers more horsepower than their entry-level Charger counterparts, and the same holds true for each model's Hellcat trim. Performance differences are slight, but for optimal output, the Challenger makes sense.
The Challenger's two-door coupe body style makes it a unicorn in an industry obsessed with SUVs. Newer models offer oversized infotainment touchscreens and Apple CarPlay and Android Auto connectivity. Many versions also feature standard navigation, so you always know how to reach your destination. Choose a trim with Dodge's specially designed performance seats and lean into every hairpin turn, knowing you're anchored snugly between the side bolsters.
The newest Challenger models, offer an optional 19-speaker Harman Kardon audio system complete with two subwoofers. The 900-watt premium audio system takes concert-grade sound to the next level. You just might need the extra volume to overcome the supercharged V8's rumble. Dodge also has some fun exterior colors, offering the Challenger in multiple eye-catching hues that highlight every angle.
The Durango: Not Your Neighbor's SUV
Why can't family-friendly coexist with outrageous performance? Dodge says they can, which is the philosophy behind the one-of-a-kind Durango. To the delight of non-conformist moms and dads, the most hot-blooded Durango generates 475 hp and flaunts its own muscle car-inspired styling. Wearing a set of Pirelli summer tires, the supercharged Durango sprints from 0 to 60 in well under four seconds. Boat or RV owners can also relax knowing the Durango can tow up to 8,700 lbs.
If the thought of 475 hp has you fretting over fuel costs and insurance premiums, Dodge offers Durango trims with more sedate powertrains. Base models come with a standard V6 engine offering surprising fuel economy ratings. Recent Durango models get 19 MPG in the city and 26 MPG on the highway, which is quite impressive for this three-row SUV. Speaking of road trips, the whole family can relax in its spacious cabin. Seating for up to seven passengers and a generous cargo area tick the comfort and utility boxes.
Infotainment features include large touchscreens with responsive Uconnect software systems. A factory-installed rear-seat entertainment system features dual screens and an assortment of ports for connecting gaming consoles and other devices. Other kid-friendly features include a variety of storage cubbies, cupholders, and charging ports. Choosing a top-of-the-line Durango unlocks high-end luxury finishes like leather seating, chrome interior accenting, and heated and ventilated seats.
If you like a heaping side of macho with your family SUV, the Dodge Durango is tailor-made for you. Refinement comes in the form of elegant trims like the Citadel (not available in every model year), but you might regret straying from the Durango's brawny contours. Reliability and durability are given, as is safety, which makes the Dodge Durango a fun deviation from typical vanilla-flavored SUVs.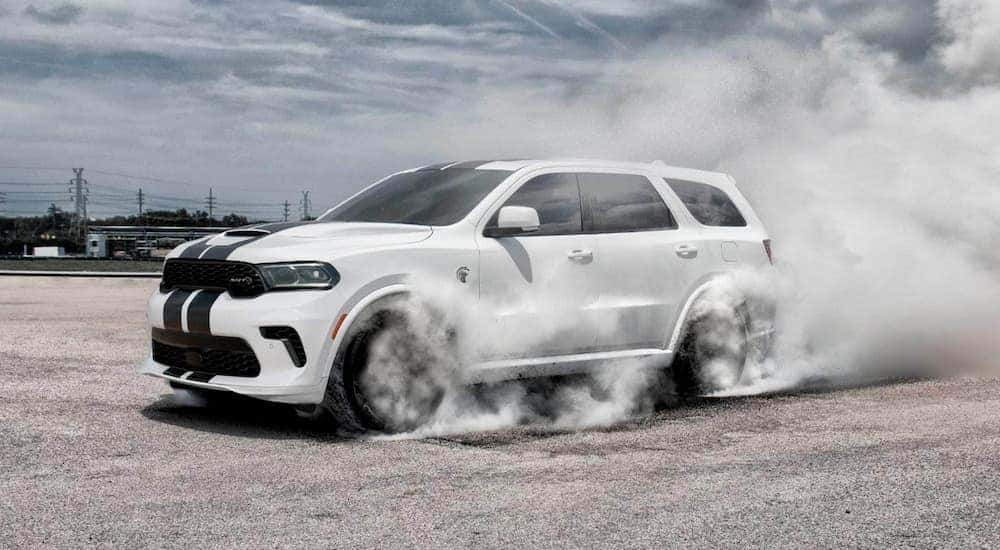 Buy an Enduring Symbol of Automotive History
As a Dodge owner, you're part of a legacy of performance and muscle car brawn. Owning a Charger or Challenger puts you in a category with drivers who love big V8s with throaty engine sounds and responsive acceleration. According to J.D. Power, owners give the Durango high marks for performance, comfort, and functionality. The configurable interior adapts to your weekend plans, making room for gardening supplies, camping gear, or the team EZ-up.
It's hard to imagine driving a vehicle that's at once practical, fun to drive, and legendary. The Dodge lineup bucks the trend, unapologetically doubling down on supercharged V8 power and throwback styling that befits the brand's heritage. You can browse our expansive lineup of new and used Dodge cars and SUVs online from the comfort of your home. Better yet, contact us or stop by Ryan Chrysler Jeep Dodge, take a test drive, and see why performance lovers are lining up to experience Dodge ownership.