2020 RAM 2500 Towing Capacity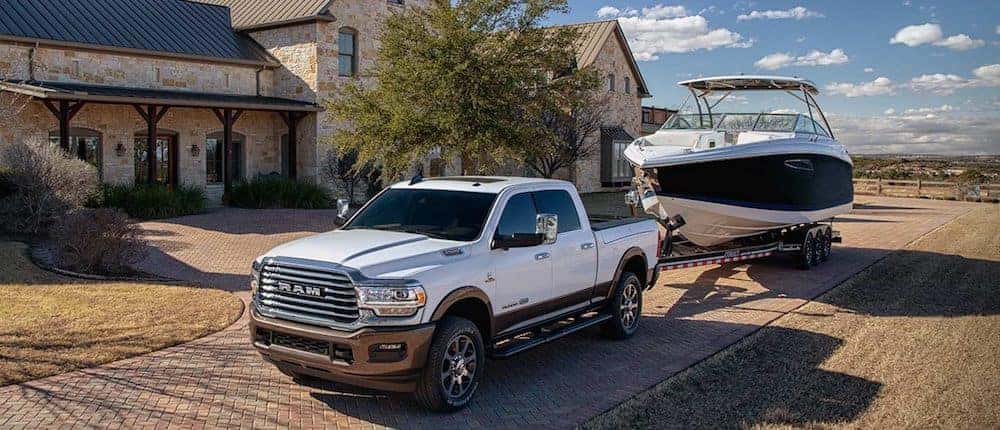 The 2020 RAM 2500 is a formidable pick-up truck for Williston jobs and offers staggering performance specs with great towing features. But how much can a RAM 2500 tow? The RAM 2500 is a heavy-duty pickup truck that's designed to pull your toughest loads at your Stanley jobsite. With two powerful engine options, the RAM 2500 can tow tens of thousands of pounds with ease. Learn more about the RAM 2500 towing capacity and engine options with Ryan Chrysler Jeep Dodge below.
How Much Can a RAM 2500 Tow?
The RAM 2500 comes with two engine options that determine it's towing capacity. When pulling loads on your Watford City job site, it's important to know how much you're towing to find out which engine option is best for you!
If equipped with the 6.4L HEMI® V8 engine, the RAM 2500 can tow up to 17,540 pounds with a 4,010-pound max payload capacity.
The 6.7L Cummins® Turbo Diesel I6 engine offers an astounding 19,680 pounds of towing capacity with a payload of 3,160 pounds.
RAM 2500 Engine Specs
You may have noticed that the RAM 2500 engine options include regular gas-powered and diesel-powered. We've summarized the differences between the two engines for you below:
Standard: The 6.4L HEMI® V8 engine comes standard in the RAM 2500 and offers 410 hp and 429 lb-ft of torque.
Diesel: The 6.7L Cummins® Turbo Diesel I6 engine produces 370 hp and 850 lb-ft of torque if you need maximum efficiency from your RAM 2500 truck.
RAM 2500 Towing Capabilities
The RAM 2500 doesn't just come with amazing towing and performance capabilities, it also comes with towing features that will make towing in Dickinson more efficient and safe. We've outlined the details below:
Bed Lowering Mode: This dynamic centerline display with hookup assist will make loading your equipment and DIY projects much easier in Williston.
Warn® Zeon-12 Winch: This small but mighty winch won't kink or fray and is rated up to 12,000 pounds for your Stanley projects.
Trailer Camera Wiring: This system allows two cameras to watch your trailer on Dickinson roads. The feed streams directly to your Uconnect® touchscreen and allows you to monitor your equipment from the driver's seat.
Test Drive a RAM 2500 With Ryan Chrysler Jeep Dodge!
Now that you know how much a RAM 2500 can tow, come visit us at Ryan Chrysler Jeep Dodge to take this truck for a test drive! Be sure to compare the 2021 model to the 2020 model and to competitors like the Chevy Silverado 2500! While you're here you can learn more about the available features and the RAM 2500 sister models: the RAM 1500 and the RAM 3500. Or, compare the 2500 vs 3500! Contact us today with your questions!
More From Ryan Chrysler Jeep Dodge
You're shopping for a new or used SUV. You want something that's right for you, your lifestyle, your family, your job, or your recreational travel habits. Maybe you've been looking at the 2022 Dodge Durango as a rugged SUV? Maybe you're looking for an SUV variant of the Ram? Maybe you just want a reliable…

Aftermarket parts for brand new or used vehicles aren't anything new. People love to tinker with and upgrade their vehicles as they see fit, especially if they buy a purpose-built car or truck for a specific activity. For instance, it's not uncommon for truck shoppers to buy a pickup and then get an aftermarket lift…

Jeep is one of the most recognized domestic brands. From its earliest creations to its service overseas during the Second World War, Jeep has long been the standard-bearer for American engineering and the versatility contained therein. As one can assume, any Jeep that rolls off the assembly line and makes its way into dealerships and…