How Many Miles Do Brakes Last?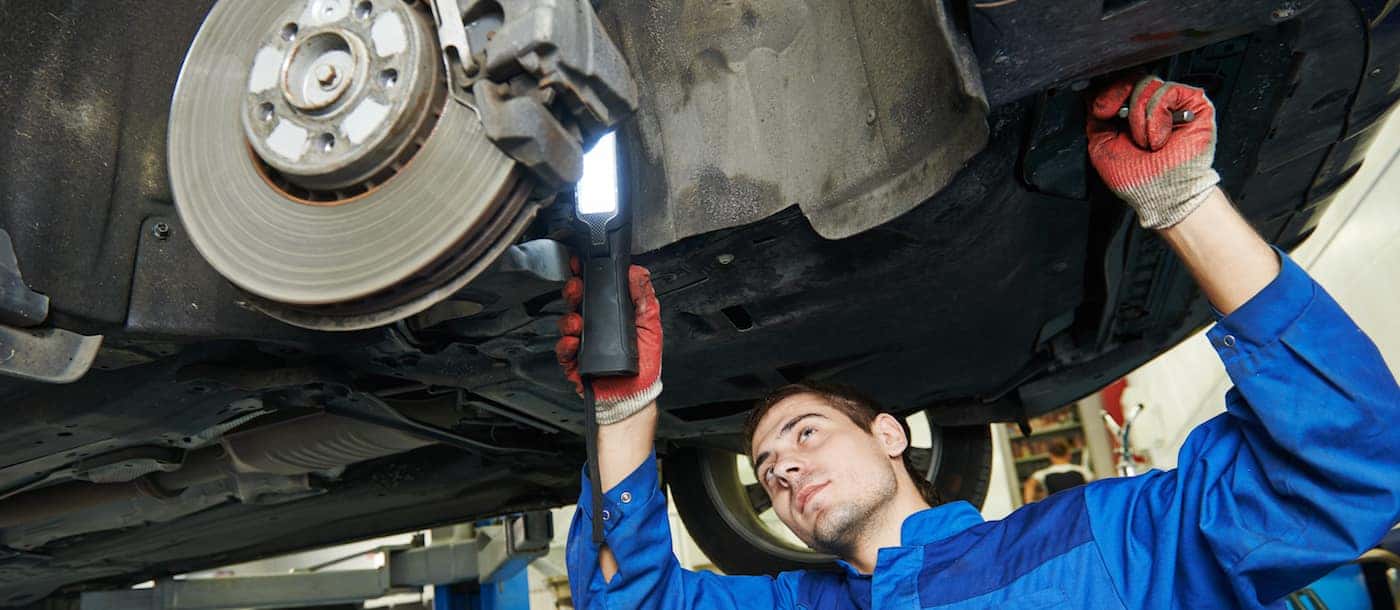 People often ask our service experts at Ryan Chrysler Jeep Dodge how long car brakes last. The truth is, there's no solid one-size-fits-all answer to this question. Why? Brakes, like tires, are a wearable item and many factors affect how quickly they wear out. That said, brakes generally should last between 25,000 miles to 60,000 miles, with a rough average useful life of about 40,000 miles. 
How Long Do Car Brakes Last: Quick Facts
One of the reasons you might want to know how long brakes last is to figure out if it's time to replace yours now. You might also want to know when you'll need to schedule your next brake service at Ryan Chrysler Jeep Dodge. While we can't say for sure how many miles your brakes will last, here's a list of common factors that affect the longevity of your brake pads.
How You Drive: Are you a driver that quickly accelerates and brakes, especially in traffic? Every time you hit the brakes, you're wearing them down more, so the more aggressively you drive, the shorter your brakes' life.
Who and What You're Carrying: The more people and cargo you carry, the more force it will take to stop your car.
Brake Pad Material and Grade: Most Chrysler, Dodge, Jeep cars you'll find on the roads of Watford City use one of two types of brake pads: semi-metallic pads or ceramic pads. The former are more common and cheaper but don't last as long as the latter.
What Type of Driving You Do: If you do mostly highway driving, you'll be stopping less, and consequently, wearing your brakes out less quickly than if you do mostly city driving with frequent stops.
Other Common Service FAQs
How Long Do Tires Last? Most tires last up to around 60,000 miles or 6 years, but like brakes, these estimates can vary.
How Often Do I Need An Oil Change? This varies depending on your car. Many new cars can go between 7,500 to 10,000 miles between oil changes, but some older vehicles should get an oil change every 3,500 to 5,000 miles. If you are a low-mileage driver, consider getting your oil changed once every 6 months.
What Services Does Ryan Chrysler Jeep Dodge Offer? Our service center can help you with everything from routine express maintenance to major electrical, engine, and transmission repairs!
How  Do I Clean Floor Mats? Learn how to clean rubber or cloth floor mats with Ryan Chrysler Jeep Dodge. —- link to the bolded part
Contact the Ryan Chrysler Jeep Dodge Service Team
Want to learn more about how long car brakes last or how long tires last? Ready to schedule service? Check out our money-saving service specials or contact our knowledgeable Chrysler, Dodge, Jeep service technicians! They're ready, willing, and able to further assist you with all your automotive service questions.
More From Ryan Chrysler Jeep Dodge
If you've ever been car, truck, or SUV shopping around Williston, you've probably heard about all-wheel drive (AWD) and four-wheel drive (4WD). What do these terms mean, and what's the difference between them? We here at Ryan Chrysler Jeep Dodge have answers! Essentially, AWD and 4WD are just two types of vehicle drivelines, but what are drivelines…

The 2021 Jeep Cherokee is a formidable compact SUV, even when pitted against competitors like the Toyota RAV4. Its known for its rugged nature, bold styling, and its 4×4 prowess. But while others in Stanley and Watford City may gawk at the exterior of your shiny new Jeep, you'll be riding high on luxury inside…

The Jeep Compass is one of the most popular small SUVs for sale in the greater Williston area, let alone one of the most popular Jeep SUVs sold here at Ryan Chrysler Jeep Dodge. Why is that? Compared to the Jeep Cherokee, another favorite, the Jeep Compass is cheaper and smaller, yet still manages to offer impressive capabilities…