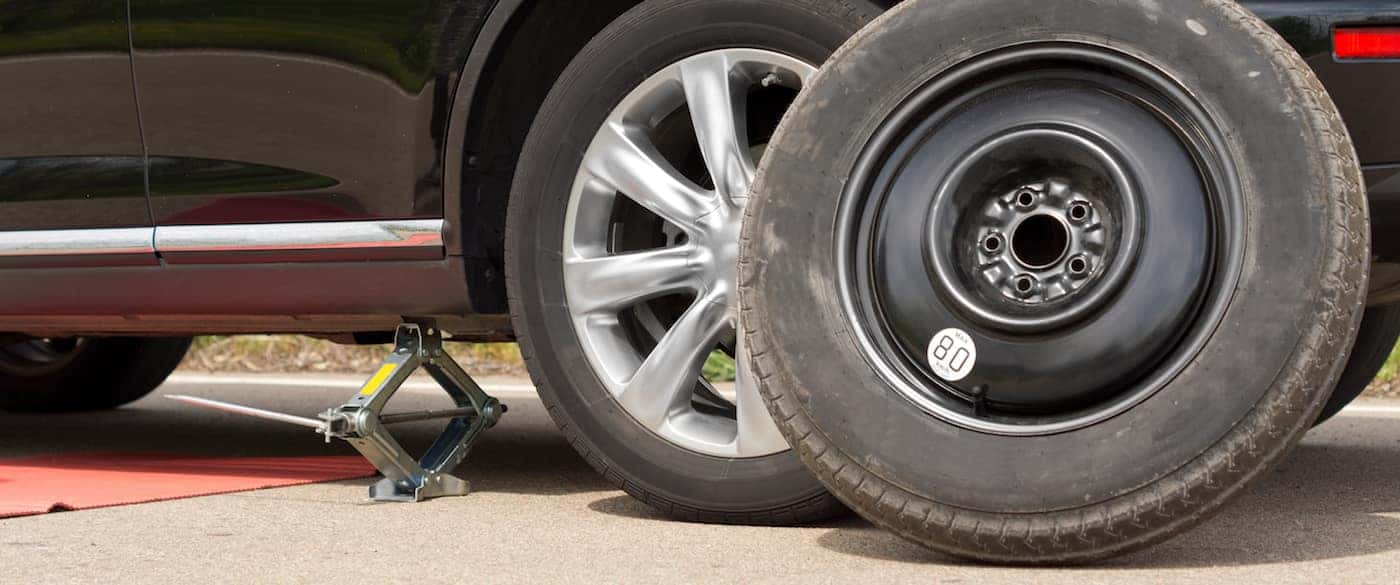 We get lots of car maintenance questions here at the Ryan Chrysler Jeep Dodge service center. One of them is "how long can you drive on a spare tire?". If you're wondering "how long can I drive on a spare tire?", we're here to answer that! The reality is, there's no one set time a spare tire lasts. In fact, there are different types of spare tires, and alternatives to spare tires called run-flat tires, and each kind offers a different useful life. Space-safer tires, also known as donuts, though, usually last around 70 miles. Read on to learn more with Ryan Chrysler Jeep Dodge!
How Long Do Space-Saver Spare Tires Last?
Say you get a flat tire on the side of the road in Stanley or Watford City. We hope you don't but hey, it happens! If you pull out your spare tire and it's smaller than the rest of your vehicle's wheels and tires, you likely have a space-saver spare, or donut. Here's how long they last and what you should know about them:
Donuts can't be driven over 50 miles per hour
Donuts shouldn't be driven for more than 70 miles
Donuts provide less traction than full-size spares, resulting in subpar performance on rainy or icy streets
Want to learn more about your particular space-saver tire? Usually, restrictions will be listed on the tire itself. Of course, you can also always call our Ryan Chrysler Jeep Dodge service center with questions like how to check tire tread wear. One other thing to note: you should definitely bring your vehicle in for service ASAP if you've had to use your space-saver spare.
How Long Do Full-Size Spare Tires Last?
Some new Dodge and Jeep SUVs and Jeep and RAM trucks come equipped with full-size spare tires. Full-size spares can be used longer than space-saver spares, but you'll still want to make sure to get them swapped out as soon as possible. Why? There's a good chance it's not the same brand as your other tires, and that can reduce traction and handling. Plus, it probably won't have the same amount of tread wear as your other tires either.
What are Run-Flat Tires and How Long Do They Last?
Run-flat tires are a type of tire that can maintain pressure even after being punctured! For this reason, they're often used as alternatives to spare tires on vehicles where putting a spare on would pose as a challenge Here are some advantages and disadvantages of run-flat tires, or RFTs as they're often abbreviated:
RFTs can stay inflated for about 50 miles following a puncture
RFTs are tougher than a space-saver tire or full-size spare thanks to durable steel ribbing inside them designed to make them last longer (regular wheel alignment and balancing can help with this too)
RFTs usually cost more than your standard tire, and sometimes result in a harsher ride
Have you noticed your tire pressure monitoring system light come on recently? It's a good idea to inspect your tires for visible punctures and take your vehicle into your nearest Watford City-area service center to repair or replace any damaged spares or tires.
Get More Tire Care Tips with the Ryan Chrysler Jeep Dodge Service Center
Want to learn more about spare tires or tire safety tips? We can help you with all your tire needs here at the Ryan Chrysler Jeep Dodge service center in Williston! Our service experts are more than happy to help you pick out new tires or decide if your tires can be repaired after a puncture or flat. Contact us today for additional information or to schedule your next service appointment!