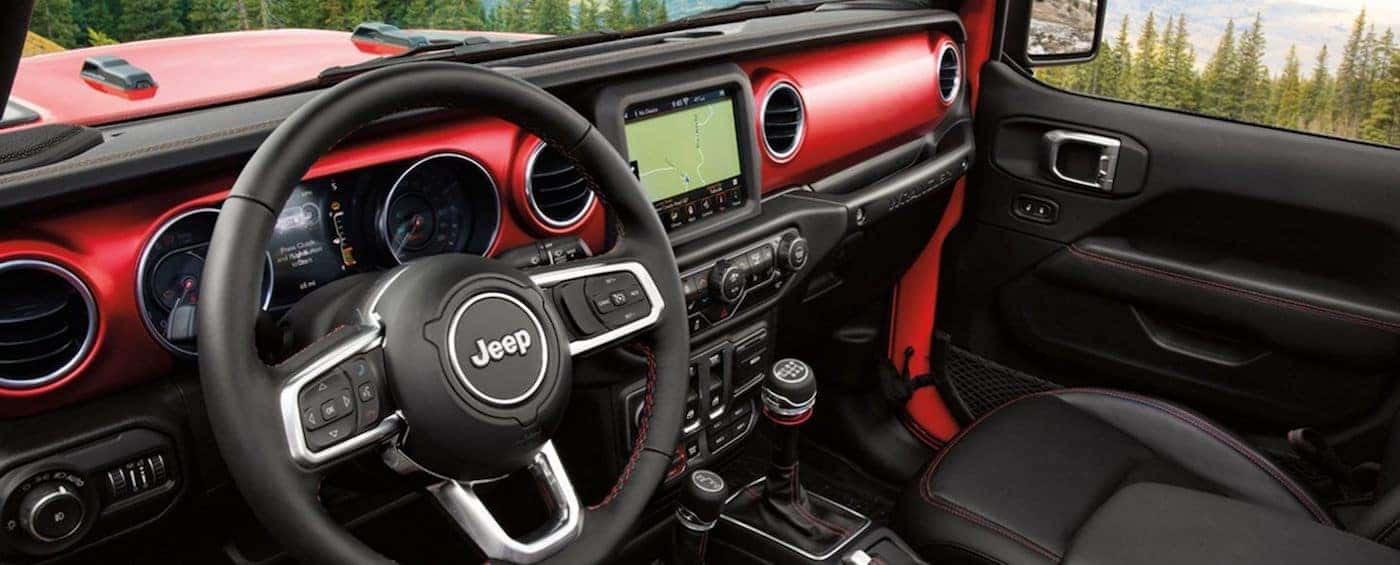 All drivers have been through it; you're driving around Williston or Stanley when a warning light comes on your dashboard. You may know what it is right away, but you may also be asking yourself, "What does the light on my dashboard mean?" Every light on your dashboard has a different meaning, but their sudden appearance isn't always a cause for concern. Learn more about the meanings behind your dashboard lights with Ryan Chrysler Jeep Dodge, then contact us if you have specific questions about your vehicle!
Dashboard Warning Light Meanings
Most Watford City drivers are familiar with the check engine light and the oil light, but what about the less common dashboard warning lights? We've broken down their meanings below. To see if you have one of these lights on the dashboard in your Wrangler interior, RAM 1500 interior, Pacifica interior, or Charger interior, check your specific vehicle's owner's manual, as different Chrysler, Jeep, Dodge, and RAM vehicles may have different indicator lights.
Engine Warning Lights:
Coolant Temp Warning: This light will come on if your coolant levels are off, if your coolant is leaking, or if your fan isn't working properly.
Service Vehicle: If an electrical issue, steering issue, or other issue occurs, this light will come on.
Reduced Power Warning: This light turns on if a part of your engine is malfunctioning. Usually, this type of problem requires you to schedule service with your dealership.
Cruise Control: This light will remain illuminated while you use cruise control.
Brake System Warning Lights:
Brake System: If there is an issue with your brakes, such as the brake fluid being low or an ABS malfunction, this light will turn on. It doesn't necessarily mean that it's time to change your brakes. Some %%di_brand%% vehicles also have a brake indicator light that illuminates when it's time to change your brakes.
Traction Control or ESP: This warning light means that your vehicle's electronic stability system is being used.
Safety & Informative Warning Lights:
Security Alert: This light informs you if a door is left ajar or if your ignition switch is locked.
Fog Lamp: This light illuminates when your brights are on.
Airbag Fault: If this light is on, it means there is a fault in the airbag system. This kind of repair requires a visit to your local mechanic or dealership service center.
Washer Fluid Reminder: This light reminds you to replenish your window washer fluid.
Tires Warning Lights:
Tire Pressure Warning Light: This light will inform you that one or more of your tires have pressure that's too low or too high. Check your tire pressure at your next stop to ensure you don't have complications later on your trip.
Learn About Dashboard Warning Lights With Ryan Chrysler Jeep Dodge
If you see one of these lights on your dashboard and you can't fix it easily at home, bring your vehicle to our service department to get it fixed! Our expert mechanics will give your vehicle a multi-point inspection to ensure that it's performing as it should. Our team can also answer your service-related questions, like "what does an alternator do?" and "how long can I drive on a spare tire?". You can also take advantage of our service specials to get your car the regular maintenance it needs to stay in good condition. Soon, you'll be back on Dickinson and Billings roads for your weekend trips and afterschool activities.