2022 Jeep Compass: A Legacy of Adventure Continues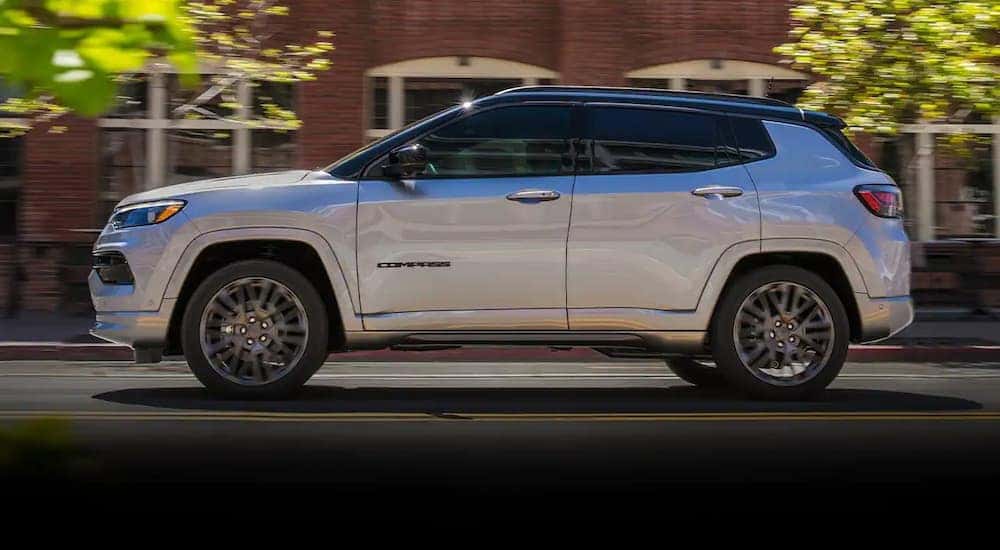 Jeep is one of the most recognized domestic brands. From its earliest creations to its service overseas during the Second World War, Jeep has long been the standard-bearer for American engineering and the versatility contained therein. As one can assume, any Jeep that rolls off the assembly line and makes its way into dealerships and driveways has a large legacy to live up to. One of the latest in the long line of vehicles bearing the name "Jeep" is the 2022 Jeep Compass. With the SUV more popular than it's ever been, Jeep's subcompact offering is everything you need and possesses all the attributes and distinctions that make Jeep the brand that so many have come to trust. Of course, the promise of owning such a vehicle might lead you to wonder, "is there a reliable Jeep dealer near me? One that adheres to the same standard of quality that the brand is known for?" Rest assured, that's a definite yes. Here at Ryan Chrysler Dodge Jeep Ram, you will find the vehicles and service you deserve.
Diminutive in Size with a Mighty Heart
The name of the game with the Jeep Compass is small. It's smaller in scale than its older siblings, such as the Cherokee and Grand Cherokee, but in a world of unstable gas prices, you'll find that its compact size is both ideal for the average consumer and an optimal step up from the even smaller Renegade. Don't sell the vehicle short because of its size; the Compass has a mighty heart and a boldness in all the right places.
Of course, small not only describes the size of the Compass, but its cost as well. A starting MSRP of $26,390 makes the vehicle affordable to the average income and delivers for much less than some other models. A 2.4L four-cylinder engine proves to be efficient and economical, with 177 horsepower and a fuel economy of 25 MPG combined. Not bad from a subcompact SUV. Of course, what else would you expect from Jeep, the brand that did more than a few tours of duty overseas to protect the free world?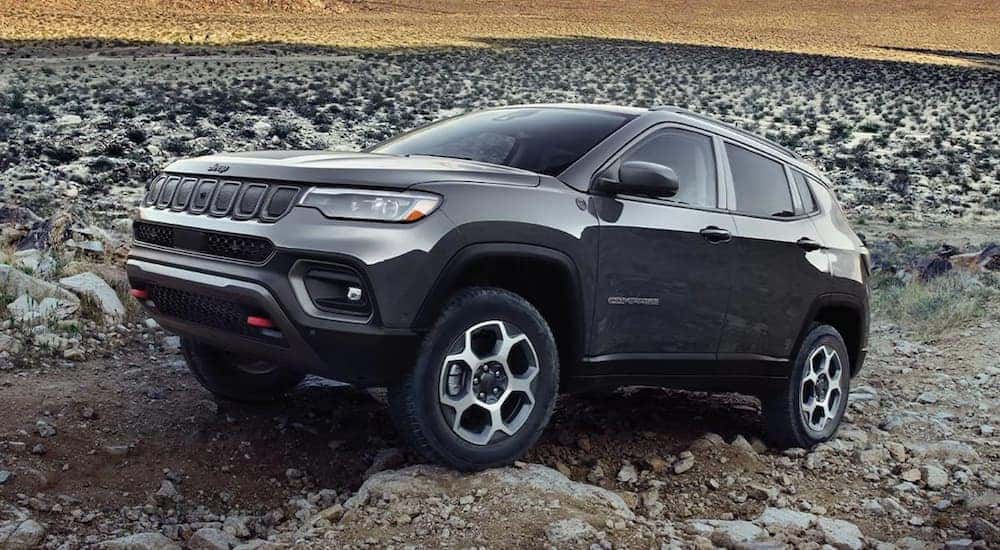 Getting Off the Beaten Path
Jeep vehicles have always been synonymous with embarking upon the path less traveled. Off-roading is less of a hobby and more of a lifestyle for the enthusiast whose adventures begin where the pavement ends. Not to worry, the Compass lives up to its name as a vehicle that lacks for nothing in its ability to explore new worlds and allow you to conveniently "get lost" from time to time.
Depending upon which trim you decide upon, the ideal off-road performance (and on-road, for that matter) is awaiting you. For those of you who tend to stay on the paved roads around Williston, the first three trims come with standard front-wheel drive, offering 4×4 as an available feature. Of course, the powertrain is the most noticeable difference in the trim levels that are separated by front-wheel drive and 4×4. Front-wheel drive models come equipped with a six-speed automatic transmission, whereas 4×4 models have an upgraded 9-speed automatic transmission.
For maximum off-road capability, be sure to opt for the trail-rated 2022 Compass Trailhawk with its unique off-road features. And because adventuring often requires bringing more with you, the Compass possesses a towing capacity of 2,000 lbs on 4×4 models. Perfect for taking your quads to a location that's unspoiled and ideal for exploring.
Interior & Comfort
While any Jeep is certainly suited for the rugged outdoors and those among us who enjoy some playtime in the dirt, that's not to say that the Compass is without refinement and comfort. Stepping inside the Compass, one gets the feeling of being in a jungle adventure dramatized for the big screen. Speaking of big screens, the very stylish dashboard is accentuated by an 8.4" infotainment system which comes standard. Of course, if you really want the authentic feeling of a big-screen adventure, an available 10" infotainment screen can really help bring any commute to a whole other level of enjoyment. The Compass also offers voice recognition and navigation because an adventure should never lack for technological prowess.
The Compass is also well suited to adventure when it comes to storage capacity. Seating four adults with ease and comfort, which means you and yours can finally have that double date that veers off into the untamed frontier. When it comes to storage space for the supplies you need, you don't need to worry; an available cargo space of over 59 cubic feet will accommodate the supplies for any expedition you decide to embark upon.
Safety & Driver Assistance
One of the trends that we've seen from competing manufacturers is the variety of safety and driving assistance features that allow for greater peace of mind than ever before. The question is no longer one of "what's available?" but "what comes standard?" Remarkably, even on the introductory trim level, the Jeep Compass comes with quite a few features to make your commute or adventure a lot less stressful and a whole lot safer. Braking assist and traction control both come standard, as does blind-spot warning, active lane management, and forward collision mitigation.
These are standard features across all trims, meaning that any ride you decide to undertake will be safe and enjoyable. Of course, other advanced options are available such as adaptive cruise control and a 360-degree camera system. Some of the available features that will appeal to the tech-savvy are included with Jeep's Driver Assistance Group. These include traffic sign recognition, highway assist system, and parallel and perpendicular parking & un-parking assistance.
Whether your passions gravitate towards the technological or terrestrial, the 2022 Jeep Compass is the vehicle that can accommodate all your needs and carry the banner for adventure that Jeep has become known for.
Get Your Compass and Point it Towards Adventure at Ryan CDJR
There's something to be said about Jeep's incredible track record when it comes to their vehicles that defy convention, both on and off the road. The Jeep Compass takes all the advantages of the larger models from the brand and shrinks them down to a size that's convenient and affordable for consumers. If you feel a Jeep would be the ideal investment for your adventures and otherwise, shouldn't you trust a dealership that adheres to the same dedication and focus?
At Ryan CDJR, you'll not only find the 2022 Jeep Compass ready to take home, but you'll also find a wide-ranging inventory that encompasses the very best in new and used vehicles. The high standards of quality that we adhere to aren't limited to the inventory on our lot, and nor should they. We have a fully stocked and staffed service department to keep your investment running on the road. When that check engine light comes on, don't worry for a moment; just bring it in and let us do the rest.
And if you've ever felt like vehicle ownership is something that's been kept from you, we also offer financing and will buy your old vehicle to put you behind the wheel of what you always wanted. Drop by our Williston showroom and let us show you everything the 2022 Compass offers.